Every company has a different culture and way that they want their employees to behave in the workplace. It is important to create an environment that encourages team-building and collaboration among all staff members. A good way to do this is by organizing company-wide events. 
A company event is an important part of a successful business strategy and it's one that can have a significant impact on employees' wellbeing. In fact, research has shown that employee engagement in their work increases after attending a company-sponsored social gathering.
This means that if you want to increase productivity at your workplace then make sure you host some fun activities or group get-togethers with colleagues from around the office. Here's why:
What Are The Benefits of Doing Company Events?
1) Builds Strong Team Bonds
When people feel valued by their employer they're more likely to stay longer, perform better and be happier overall.
2) Improves Company Culture
Company events are an important part of any business, as they help you build and maintain a positive corporate culture.
3) Promotes Creativity
An informal get-together with colleagues can help promote creativity because everyone is not in their normal surroundings. The event can be where everyone eats together and talks about work. 
4) Boosts Employee Engagement
It creates opportunities for social interaction and encourages participation from all levels of staff.
The Best Ideas for Company Events
Company events are an important part of our culture and help us build strong, trusting relationships within the organization. As well as bringing together staff from different teams in one place for lunch or drinks, they can also be used to celebrate successes, host awards ceremonies and training days, and even reward team members who go above and beyond their job requirements.
Here are some of the best types of company events that your business can implement. 
Company Picnic
A yummy burger with chips & dip?
Yes, please!
A company picnic is a great way to connect with colleagues while eating delicious food.
Happy Hour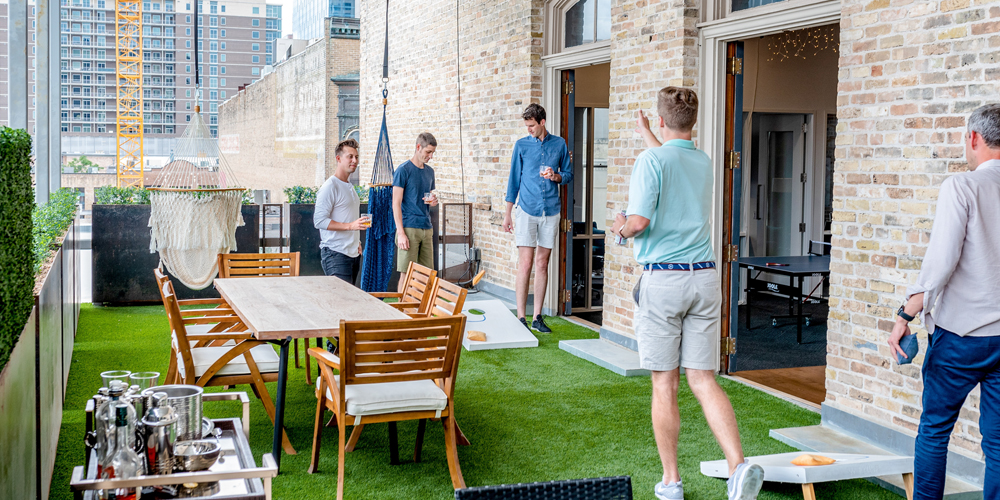 Everyone loves happy hour.
You can pull out the games, the snacks, and the beer to give your employees a chance to relax with one another in a different setting. It's a luxury that they normally wouldn't get the chance to do.
Do a Scavenger Hunt
Scavenger hunts are a fantastic way to break down barriers between individuals in any organization including those who work from home.
Friendly competitions can help to bring together colleagues as well stretch their limits with different challenges. 
Go Kayaking
It's always fun to get a little wet. Go kayaking, then take in the view from up top and enjoy some drinks and snacks. It will be an awesome way for you all to spend time together getting out of the office on such a beautiful day!
Unleash Their Inner Foodie
Cooking classes are also a great way to learn about something new while having fun with the of breads and pastas. Or maybe they have a lesson where you learn how to cook like a chef.
Your company can meet at a fancy restaurant where they bring their loved ones so you can get to more of them than just at the office. 
Do A Segway Tour
This is another option when it comes to activities outside of your workplace. The best thing about this activity is that it allows your entire team to participate. It gives you all a chance to bond even further as well as see what each other looks like riding these things. During the tour, you can explore more of the beautiful scenery around you. This company event will offer great photo ops for everyone.
Volunteer
If there's anything else that needs doing in your community, volunteer your organization to do it. What better way to build good company morale than volunteering at a local food bank, shelter, etc. Its a kind way to say thank you to your community.
Board Game Tournaments
Play some great games with reasonable play times include Boggle, Jenga, or even games using good ol' playing cards with your company to bring out their fun spirit. Don't forget to incentivize with prizes for first, second, and third place. Either way, its a fun way to keep your employees engaged and involved.
Escape Room
The term also refers to a type of game where participants are locked inside rooms with various tasks to complete. They usually involve solving puzzles or completing challenges within an allotted amount of time. They can bring some great and hilarious memories for everyone in the company.
Company Events FAQ's
Q. Why does it matter where you hold your company events?
A: Where you hold your company event has a huge effect on employee satisfaction. Employees want to feel included and valued by being able to attend events held outside of the office environment. If you don't provide opportunities for employees to socialize away from the office, they may not feel appreciated enough.
Q. Why is it critical that your organization holds at least one annual corporate event each year? 
A: Holding company-wide events helps create positive relationships among coworkers. These types of events allow people to form friendships and bonds over shared experiences which builds loyalty. Events also give managers ideas for future events and ways to motivate staff members. Furthermore, holding events provides a sense of belongingness and camaraderie among co-workers.
Q. What are some hybrid company events?
A: In today's day and age, not all employees are in the office. Hybrid company events consist of combining elements of both traditional offsite meetings/events & online conferencing platforms. Some ideas for hybrid company events are virtual escape rooms, kits for cooking or beer making, office trivia, etc. 
Closing With Company Events
Company events are all about bringing together your employees in a different way than usual. They are so important in today's day and age.  Once you've decided what type of activities you would like to implement in order to improve engagement levels within your workforce, be sure to follow up with them. Send emails to remind them of upcoming company events and make announcements during regular communication channels such as email blasts. Be creative!